Our Trips
Footprints in the wild
8 Nights/ 9 Days | 2 May 2020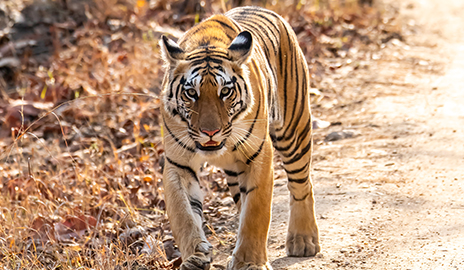 Overview
Photo Gallery
Tour Itinerary
How to Reach
Where to Stay
The diversity of the Indian sub-continent is reflected in its intriguing mix of wildlife – a product of the varied landscapes and ecosystems that this vast land covers, from tropical evergreen forests and coastal swamps to the arid mountains of the extreme North. India's jungles are home to about 10% of the world's wildlife; a huge diversity of mammals; the highest diversity of wildcats in the world including the Royal Bengal Tiger; and majority of the world's tiger population.
In this journey, we will take you through two popular national parks – Kanha and Bandhavgarh – the best jungles in the world to view the big cats (tigers and leopards) in their natural habitat.
Wildlife Encounters:
Apart from the Bengal Tiger, Leopard and the Jungle Cat, other wildlife that you may encounter in this region include Sloth Bear, Dhole (Asiatic wild dog), Gaur (Indian bison), Flying Squirrel, Golden Jackal, Indian Fox; over 300 species of birds; and reptiles such as Marsh Crocodile, Indian Rock Monitor, Rock Agama, Chameleon, Fan-throated Lizard, Russell's Viper and many more.
Day 1
: 2nd May 2020 • Arrive Delhi
Welcome to India's capital - Delhi - a place where the old and
new intermingle with a seamless charm. Spend the evening interacting with your tour expert, who will brief you about the upcoming journey over dinner.



Day 2
: 3rd May 2020 • Delhi>>Jabalpur>>Bandhavgarh
Today, you will make your way to Bandhavgarh Tiger Reserve to begin exploring India's wildlife diversity. You should arrive at your lodge by 5:30 pm. Spend the evening at leisure, soaking in the jungle environment.

Day 3
: 4th - 5th May 2020 • Bandhavgarh
Bandhavgarh National Park is sure to leave you with two abiding memories - on the trail of the Royal Bengal Tiger and a vision of the over 2000-year old fort that stands proudly on a hill deep inside the forest. We will take two safaris into the park on both days - morning (0600 to 1000) and afternoon (1430 to 1700).

Day 4
: 6thMay 2020 • Bandhavgarh>>Kanha
This morning, you will take your last jeep safari into Bandhavgarh Tiger Reserve, searching for big cats. After an early lunch, transfer by road to Kanha Tiger Reserve – one of the oldest and largest wildlife sanctuaries in India.

Day 5
: 7th - 8th May 2020 • Kanha
Nestled in the jungles of the Mekal Range of the ancient Satpura hills, the Kanha National Parkis a popular destination for wildlife lovers. It also has a fascinating history – ruled by the Rajputs for over 600 years, before being taken over by the Gond Kings and later the British in 1818. We will take two safaris into the park on both days, one in the morning and one in the afternoon, accompanied by local guides.


Day 6
: 9th May 2020 • Kanha>>Jabalpur>>Delhi
This morning, we will make our way back to Delhi. After an early breakfast, transfer by road to Jabalpur and catch your flight to Delhi. Spend the rest of the day at leisure.

Day 7
: 10th May 2020 • Depart Delhi
Bid farewell to your wild trails of India as we take you to the airport for your flight back home.


Send a Query