Our Trips
Footprints in the wild
8 Days | 2 May 2020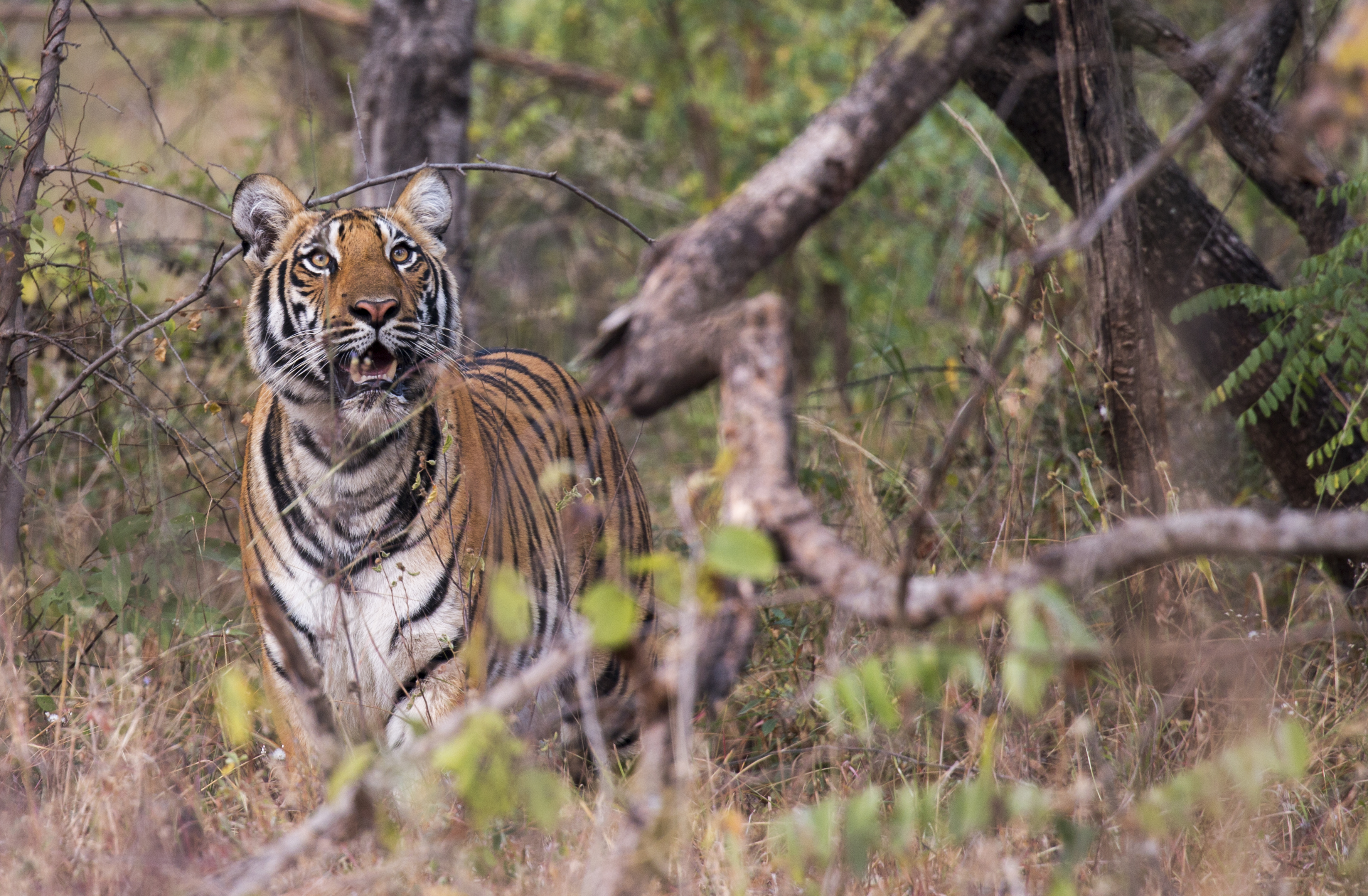 Overview
Photo Gallery
Tour Itinerary
How to Reach
Where to Stay
India is home to about 10% of the world's wildlife with a wide variety of mammals, and the highest diversity of wildcats in the world including the Royal Bengal Tiger.
As per WWF, the global population of tigers in the world stood at 3890 in 2016. Most of this population can be found in India, home to about 2200 tigers, making it best destination in the world to view this majestic big cat in its natural habitat.
We have planned this journey to not only give you the best chance of seeing the majestic tiger in its dwelling but also to do so in good comfort, as we travel through two spectacular national parks of India – Bandhavgarh, and Kanha Tiger Reserve.
Apart from the Bengal Tiger, Leopard and the Jungle Cat, other wildlife that you will find in the region are:
Mammals: Sloth Bear, Dhole (Asiatic wild dog), Gaur (Indian bison), Flying Squirrel, Golden Jackal, Indian Fox and if lucky, you might see the Indian Pangolin and the Honey Badger
Birds: Indian Peafowl, Paradise Flycatcher, Golden Oriole, Indian Pitta, 4-5 species of Woodpeckers, 3-4 species of Kingfishers, Crested Serpent Eagle, Changeable Hawk Eagle along with 250 other species of birds
Reptiles: Marsh Crocodile, Indian Rock Monitor, Rock Agama, Chameleon, Fan-throated Lizard, Russell's Viper, Indian Rock Python, Spectacled Cobra and many more
Day 1
: Arrive in Delhi. There are no special activities today, as we wait for all guests to arrive. Spend the day at your own pace. Overnight in Delhi.
Day 2
: After breakfast, transfer to the airport and catch a flight to Jabalpur, where you will be received and driven down to Bandhavgarh (4.5hrs). Evening at leisure and overnight in Bandhavgarh
Day 3
: Explore Bandhavgarh on two safaris through the day – a 4-hour safari in the morning and a 3-hour safari in the afternoon. In between, we will return to the lodge for rest and meals. Overnight in Bandhavgarh.
Day 4
: Explore different regions of the park on our second day through Bandhavgarh. Other than the tiger, the park is also a great place to sight birds, especially raptors such as long billed vulture, crested hawk eagle, crested serpent eagle, shikra (goshawk) and lesser adjutant storks (similar to Marabou storks of Africa). Overnight in Bandhavgarh.

Day 5
: Parks in Madhya Pradesh remain closed on Wednesday afternoons, so we will use this time to transfer in between two parks. In the morning, take your last jeep safari into Bandhavgarh Tiger Reserve, in search for the big cats. After an early lunch, we will drive down to Kanha Tiger Reserve. Overnight at Kanha.
Day 6
: One of the oldest and largest tiger reserves in Central India, Kanha is also home to the Barasingha. We take two safaris into the park today. Overnight in Kanha.
Day 7
: Continue exploring the park today on two safaris. Kanha is divided into 4 major zones, each offering a slightly different landscape, be it Sal forests, grasslands, or hilly terrain covered in bamboo forests. This has also translated into a tremendous diversity of birds with about 300 species. Overnight in Kanha.

Day 8
: After an early breakfast, transfer by road to Jabalpur and catch your flight to Delhi, from where you connect on to your international flight back home.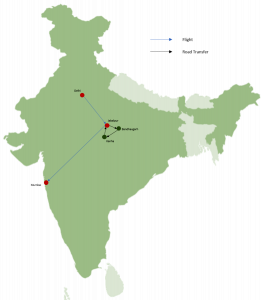 Baghtola Jungle Lodge
Spread over 30 acres Baghtola lies a short distance away from Gorhi Gate in the Maghdi Zone of Bandhavgarh National Park. The lodge is surrounded by almost a thousand square kilometre of National Park which makes for an unforgettable experience. Add to that a one acre perennial water body confined within the perimeter of the property making for your very own watering hole, and the experience becomes twice as magical. Nilgai, Chinkara, Golden Jackals are regular visible visitors, but it is the langur and chital alarm calls that make your pulse race and your breath quicken as they alert you of the presence of a big cat. Air-conditioned tents with private bathroom for each unit, that blend into the environment, have been designed to ensconce you in a cocoon of luxury.
The park was the hunting preserve of the erstwhile ruling family of the state of Rewa and Maharaja Martand Singh captured the first white tiger in this area in 1951.  It is said that it is his genes that are present in all the white tigers in the world today. Please note, today there are no white tigers in the wild. All white tigers are kept and are bred in captivity.
The four main zones of the park are Tala,Maghdi, Khitauli and Panpatta and together they form the core of the 'Bandhavgarh Tiger Reserve'. The area is known for its biodiversity and lists under North Indian Moist Deciduous Forests. The vegetation is chiefly Sal trees in the valleys and on the lower slopes, gradually changing to mixed deciduous forest on the hills and the drier areas to the south and west.
Lodge Naturalist Profile: Mr. Zian Shirazi
Mr. Shirazi was actively involved in Snake rescue and conservation in Bangalore from 2002. This was when he began to realize his keen interest in wildlife and its conservation. His interest in wildlife developed and he progressed into birding and photography where he developed a good knowledge of the birds found in the South and central parts of India. In 2016 he realized his dreams and passion for wildlife and joined Baghtola – Bandhavgarh as a Naturalist after being in the "cooperate world" for over 22+ years.
Send a Query