Our Trips
In search of the Elusive Firefox
12 Nights/ 13 Days | 5 Apr 2021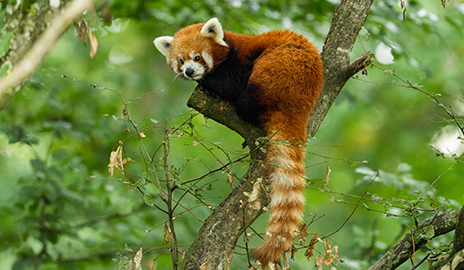 Overview
Photo Gallery
Tour Itinerary
How to Reach
Where to Stay
India is full of wonderful species waiting to be seen and appreciated, one amongst these and undoubtedly one of the cutest creatures of them all is the Red Panda. It is also the only "panda" species in the world. The Giant Panda is a bear. The eastern Himalayas is the only place where one can find the red pandas. This program here is a great combination of unique along with the more easily seen wildlife in the Indian subcontinent. Our program takes you to two states in India – West Bengal in eastern India to Singalila National Park and to Madhya Pradesh in Central India to Kanha Tiger Reserve. The regions differ vastly in the terrain, birdlife as well as mammalian life forms. The experience is also a great combination of a popular wilderness experience with a unique wilderness experience.
This program has been designed to showcase not only the popular species that the country is known for but also some of the lesser known species such as Red Pandas, Himalayan Black bear, Clouded Leopard, Leopard Cat, Himalayan Serow, Barking Deer, Yellow-throated Marten, Wild Boar, Pangolin, Pika and many other Eastern Himalayan exotics. We combine these with a search for Bengal Tiger, Leopard, Asiatic Wild Dogs along with a huge diversity of birds that are quite different to the ones that you find in Singalila.
Day 1
: 5th April 2021 • Arrive Delhi
Welcome to India's capital – Delhi – a place where the old and new intermingle with a seamless charm. Spend the evening interacting with your tour expert, who will brief you about the upcoming journey over dinner.

Day 2
: 6th April 2021 • Delhi - Bagdogra - Singalila National Park
This morning you check-out early and transfer to the airport from where you fly to Bagdogra. The journey to Singalila National Park is by road and you should reach the lodge by 1500 hrs. The remainder of the afternoon can be at leisure to recover from the long journey or you can take a short hike with the lodge naturalist in the surrounding hills.

Day 3
: 7th – 10th April 2021 • Singalila National Park
The first half of each day is spent exploring (hiking & trekking) the surrounding jungles in search of the red panda along with birds of the region. After lunch one can rest and take a short hike, but the day light is limited. By 1700 hrs light fades leaving you to retire at the lodge.

Day 4
: 11th April 2021 • Singalila – Bagdogra - Delhi
Early morning visit Sandakphu top is situated within Singalila National Park and is the highest peak in West Bengal. Sandakphu offers the best view of Kangchenjunga also known as Sleeping Buddha or Sleeping Shiva. Return to the lodge for breakfast before heading to Bagdogra and fly onwards to Delhi.

Day 5
: 12th April 2021 • Delhi – Raipur - Kanha
Today you take an early morning flight to Raipur where you meet your driver and transfer by road to Kanha. The afternoon is at leisure to explore Tribal Art Museum on lodge campus.

Day 6
: 13th – 15th April 2021 • Kanha
The next few days is spent exploring Kanha Tiger Reserve – the largest tiger reserve in central India. Each day take two safaris into the park (morning & evening) except on 14th where you only have a morning drive. On the 14th evening take a nature walk inside the 110 acre lodge property with a lodge naturalist.
All parks in Madhya Pradesh remain closed on Wednesday afternoon which is why we take a nature walk instead of a safari.

Day 7
: 16th April 2021 • Kanha – Jabalpur - Delhi Depart Delhi
Much of today will be spent traveling back to Delhi. After a morning safari take the road transfer to Jabalpur from where you catch your flight to Delhi.


Day 8
: 17th April 2021 • Depart Delhi
This morning transfer to the airport and catch your flight back home.

Send a Query