Our Trips
An Indian Art Affair
Engaging Journeys, Crafted by Creative - 11 Days | 24 Jan 2020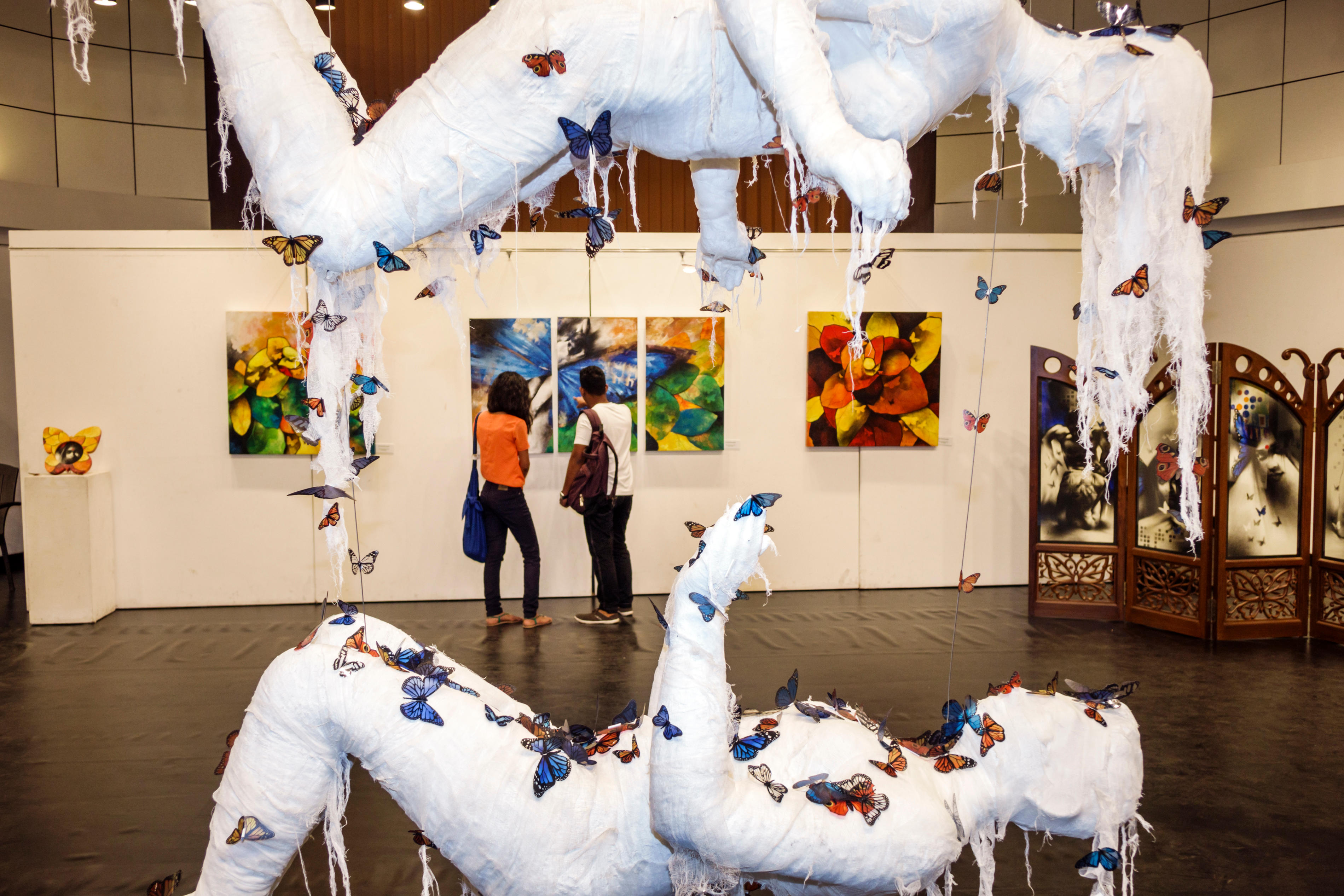 Overview
Photo Gallery
Tour Itinerary
How to Reach
Where to Stay
Indian art consists of an immense variety of forms, as diverse and eclectic as the culture and heritage of the nation. Passed down from many generations, some dating to the prehistoric era, Indian art traditions reflect the diverse ethnic groups, cultures, traditions and beliefs that have left an indelible mark on the country.
Soak in these artistic wonders of India and explore the rich treasures of Indian history; while you visit some of the most fascinating museums of India, iconic monuments and places of historic significance. This art rendezvous is ideal for art lovers, enthusiasts and critics as well as anyone interested in learning about new art forms and the history of Indian art and design.
The journey is also packed with a fun Bollywood tour, where you get to learn traditional Bollywood dance moves and even witness a live film shoot, with a behind-the-scenes look at what goes inside the glamourous world of the Indian film industry.
 Tour Expert:
Seema Srivastava
Art & Design Historian and Heritage Expert
Seema Srivastava is an artist, art enthusiast and illustrator. With over 30 years of experience, she regularly conducts heritage walks, museum visits, and craft experiences for art and culture enthusiasts. With a wide experience in teaching art history and design-related courses, she regularly holds lectures on Indian art and architecture for students and faculty visiting India. With her wide knowledge and experience in Indian art and architecture, she makes for the perfect host for your journey, and will share her incomparable insights about Indian art forms, both traditional and modern.
Day 1
: Welcome to India's Maximum City - Mumbai. Get an introduction and insights on the upcoming tour during a briefing session with Seema Srivastava, our tour expert, post dinner.
Day 2
: Embark on your journey with the Bollywood-inspired "Mumbai Dream" tour. Experience the iconic Bollywood dance, followed by a visit to a TV/film/ad film set to watch a live shoot and ending at a recording studio for a lesson on sound recording. Later, visit the Prince of Wales museum and in the evening, enjoy a heritage walk at the iconic Taj Hotel.
Day 3
: Fly down to Kolkata and take the afternoon heritage tour, which is centred around the Dalhousie Square. Later, enjoy a short ride on the iconic Kolkata Tram.
Day 4
: Visit Kumartuli - Kolkata's traditional quarter for potters and sculptors, followed by the Weavers Studio, handicraft centre, flower market and an art gallery. In the evening, join a local family for authentic Bengali cuisine.
Day 5
: In the morning, visit Victoria Memorial and afterwards, fly to Varanasi. Experience the ethereal evening "aarti ceremony" on the ghats of the Ganga river, followed by dinner (vegetarian) at a local restaurant.
Day 6
: Witness a serene sunrise on the Ganges as you step out for an early morning visit to an "akhara" to watch traditional wrestling – an ancient sport which still finds its way in the narrow lanes of Varanasi. Later, fly to the next destination – Agra and experience the spectacular "Mohabbat the Taj" show.
Day 7
: In the morning, visit the iconic monument of love Taj Mahal, built by Shah Jahan for his favourite wife Mumtaz; followed by Agra Fort, one of the finest Mughal forts in the country; and the lesser-known Chini Ka Rauza, the Persian-style riverside tomb of Shah Jahan's chief minister.
Day 8
: In the morning, drive down to Delhi, approximately 4.5 hours away. In the evening, meet an artist at his studio over tea and snacks.
Day 9
: Spend your day at the Delhi Art Fair, South Asia's leading platform for modern and contemporary art, followed by a visit to the National Museum.
Day 10
: Spend the day exploring the city, starting with a rickshaw ride through the lanes of Old Delhi, where you visit the Jama Mosque; drive past Central Delhi and later, visit the Gandhi Smriti, Humayun's Tomb and Dilli Haat.
Day 11
: After breakfast, transfer to the airport to board the flight to onward destination.
Send a Query