Our Trips
Tales of Indian Brew
8 Nights/ 9 Days | 3 Oct 2020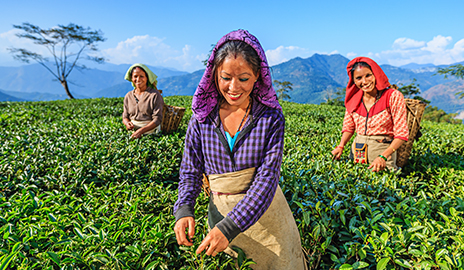 Overview
Photo Gallery
Tour Itinerary
How to Reach
Where to Stay
Unparalleled hillside views coupled with India's quintessential, indigenous teas – we have put together the perfect brew on this "chai" trail through India's North East.
Experience why tea drinking is considered an occasion in many parts of India, and indeed the world, as we take you on this curated journey – with special-access tours of tea estates and plantations; an insightful exploration of the manufacturing and production process of tea; exquisite tea-tasting sessions and interactions with tea experts as well as a scenic ride across the mountains aboard the famous Darjeeling toy train.
Day 1
: 3rd October 2020 • Arrive Kolkata
Arrive at the first destination of your journey, Kolkata - the gateway to India's northeast and a city frozen in time where life moves unhurried and languid, largely unaffected by rapid modernisation. Spend the evening interacting with your tour expert, Anamika Singh.

Day 2
: 4th October 2020 • Kolkata
Kick start your journey with an exploration of the historic city of Kolkata. Enjoy India's famous roadside tea served in traditional earthenware cups called khullars. And savour evening tea with cookies at Flurys - the legendary tearoom founded in 1927 by a Swiss expatriate couple, Mr. and Mrs. J Flurys.


Day 3
: 5th October 2020 • Kolkata>>Dibrugarh
After breakfast, you will fly down to the city of Dibrugarh - home to world-famous tea estates and a nirvana for tea connoisseurs. Visit Mancotta Tea Factory, known for its orthodox variety of fine teas, which you will get to savour in a tea tasting session. And in the evening, enjoy a performance of the exuberant Bihu dance which tells stories of love and yearning in the spring.

Day 4
: 6th October 2020 • Dibrugarh
Start your day with a tour around a tea estate known for producing high quality CTC teas, the quintessential Indian variety used to make "masala chai" or spiced tea. Then visit a tea estate where you will get to pluck leaves and brew your very own cup. For lunch, we take a boat ride (subject to weather conditions and water levels) to a beach island where picnic will be served overlooking the Eastern Himalayas. End your day with a special dinner with local tea planters.

Day 5
: 7th October • Dibrugarh>>Bagdogra>> Darjeeling
Fly to Bagdogra and then drive down to Darjeeling, approximately 3.5 hours away. This little hill town is known for one of the most globally recognised teas. Take an evening stroll around the Darjeeling Mall, the public square which is a great place to soak in the sun and catch a glimpse of local life, with wonderful views of the Kanchenjunga mountain range.

Day 6
: 8th October 2020 • Darjeeling
While in Darjeeling, the Darjeeling Himalayan Railway, (also known as the toy train ride), is a must-experience! Get onboard for unmatched views of the hillsides as we ride to Ghum - the highest station on the track. Visit the Himalayan Mountaineering Institute (HMI), considered to be a pilgrimage for all climbing enthusiasts of the world. And the Darjeeling zoo, where you can see rare animals like Red Pandas, Snow Leopards, Tibetan Wolf and a lot more.

Day 7
: 9th October 2020 • Darjeeling
Spend the day on a tea tour at Glenburn Tea Estate, a heavenly little plantation retreat. Visit the tea factory and savour tea served with a selection of homemade cakes and biscuits along with Glenburn's signature "Tea Leaf Pakoras". Lunch will be served on the lawns of the bungalow, with majestic views of Mount Kanchenjunga, Sikkim and the Darjeeling hills.


Day 8
: 10th October 2020 • Darjeeling>>Bagdogra>> Kolkata
After breakfast, drive to Bagdogra for your flight back to the city of Kolkata. This evening is free for you to relax and rejuvenate.

Day 9
: 11th October 2020 • Depart Kolkata
After breakfast at the hotel, transfer to the airport to leave India.

Send a Query