Our Trips
The last bastion of the Asiatic Lion
11 Nights 12 Days | 21 Feb 2021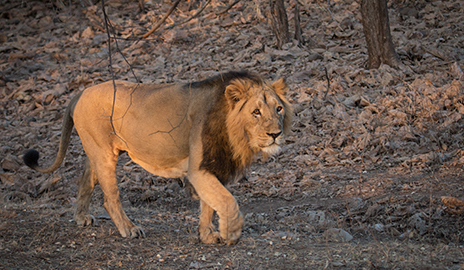 Overview
Photo Gallery
Tour Itinerary
How to Reach
Where to Stay
Western India is the more arid landscape of India with a large part of Gujarat and Rajasthan being part of the Thar Desert. The region offers a diverse landscape from dry deciduous forests to savanna grassland to huge flat saltpans – A perfect landscape for lions, leopards, jungle cats, desert cats, Indian wolf, striped hyena, Asiatic wild ass and the sloth bear.
Our experience takes you to Gujarat to three parks – Gir National Park, Blackbuck Wildlife Sanctuary – Velavadar and Wild Ass Sanctuary – Little Rann of Kutch.
Wildlife Encounters
Mammals: Asiatic Lion, Indian Leopard, Sloth Bear, Indian Wolf, Striped Hyena, Desert Fox, Jungle Cat, Desert Cat, Blue-Bull Antelope, Indian Gazelle, Black Buck, Chital Deer, Sambar Deer, Ruddy Mongoose, Small Indian Mongoose, Palm Civet, Small Indian Civet and the Indian Wild Ass.
Birds: Indian Peafowl, Paradise Flycatcher, Golden Oriole, Indian Pitta, Marsh Harrier, Montague Harrier, Pied Harrier, Oriental Honey Buzzard, Short-toed Snake Eagle, Steppe Eagle, Indian Courser, Chestnut-bellied Sandgrouse, Demoiselle Crane, Painted Francolin, Dalmatian Pelican, Short-eared Owl, Peregrine Falcon, Western Reef Egret, Lesser & Greater Flamingos.
Reptiles: Marsh Crocodile, Indian Rock Monitor, Spiny-tailed Lizard, Rock Agama, Chameleon, Fan-throated Lizard, Saw-scaled Viper, Russell's Viper, Indian Rock Python, Spectacled Cobra and many more.
Day 1
: 21st February 2021 • Arrive Mumbai
Welcome to India's financial capital – Mumbai – a place where the old and new intermingle with a seamless charm. Spend the evening interacting with your tour expert, who will brief you about the upcoming journey over dinner.

Day 2
: 22nd February 2021 • Mumbai – Diu - Gir
This morning after breakfast transfer to Mumbai airport to catch a flight to Diu. At Diu we recommend that you explore Naida caves before continuing onwards by road to Gir National Park. Remainder of the evening is at leisure.

Day 3
: 23rd - 24th February 2021 • Gir National Park
These two days we will organize 4 safari drives to help you explore the last bastion of the Asiatic Lion. Each day there will be a morning as well as an afternoon drive. Besides the lion it is a great park to search for leopard, crocodile as well as the four horned antelope (Chausingha).

Day 4
: 25th February 2021 • Gir – Velavadar
This morning after breakfast, transfer by road to Velavadar - a hidden gem, one of the last stands of grassland remaining in the massive alluvial plain running along the Gulf of Khambatt called Bhal. This afternoon take your first safari into the Blackbuck Sanctuary.


Day 5
: 26th - 27th February 2021 • Velavadar
Your exploration of the grasslands of Velavadar continues over these two days with two drives on each day. The park is home to the blackbuck antelope, nilgai antelope, the Indian wolf and the striped hyena.


Day 6
: 28th February 2021 • Velavadar – Little Rann of Kutch
The journey this morning takes you to the Little Rann of Kutch - a geographically unique landscape that was once an arm of the Arabian Sea. As the land separated from the sea by geological forces, it became a vast, featureless plain encrusted with salt. The Little Rann of Kutch is a birding paradise and has been declared a Ramsar Site. An afternoon safari is planned in the Wild Ass Sanctuary.

Day 7
: 1st - 2nd March 2021 • Little Rann of Kutch
Your search for wild ass, desert fox, desert cat, flamingos, pelicans along with other species continues over these two days where you will explore the park and the surrounding region on two drives each day.

Day 8
: 3rd March 2021 • Little Rann of Kutch – Ahmedabad - Mumbai
After breakfast transfer to Ahmedabad where you explore Sabarmati Ashram established by Mahatma Gandhi before continuing onwards to the airport and flying to Mumbai.


Day 9
: 4th March 2021 • Depart Mumbai
This morning transfer to the international airport to catch your flight back home.


Send a Query