Our Trips
Wild Explorations in Ramganga Valley
8 Nights/ 9 Days | 16 Jan 2021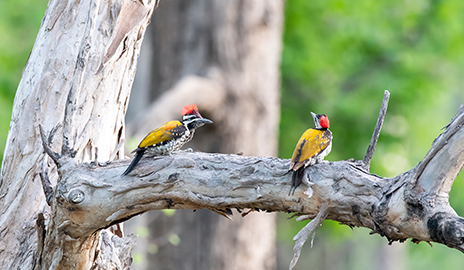 Overview
Photo Gallery
Tour Itinerary
How to Reach
Where to Stay
India boasts of about 1250 species of birds including migratory birds that travel here from all over the world. Of these, about 600 species can be found in the Corbett valley in the foothills of the Himalayas. This journey is curated with a focus on this incredible bird diversity of the region. Although, you will also spend time focusing on finding larger mammals, especially the Tiger, Leopard and Elephant.
Explore the lush jungles of the Ramganga Valley, not only from jeep safaris but also on foot, for a more intimate experience, accompanied by naturalists who know and understand the wildlife of the area.
Day 1
: 16th January 2021 • Arrive Delhi
Welcome to India's capital - Delhi - a place where the old and new intermingle with a seamless charm. Spend the evening interacting with your tour expert, who will brief you about the upcoming journey over dinner.

Day 2
: 17th January 2021 • Delhi– Corbett Tiger Reserve
In order to avoid traffic, we will start early morning (5:30 am) and transfer by road to Corbett Tiger Reserve. Once here, you will take a short hike and cross the river on a raft to reach the secluded Vanghat lodge - your stay for the next few days. Sit back and relax over lunch, before stepping out to explore the area in the evening.

Day 3
: 18th January 2021 to Tuesday, 19th January 2021 • Corbett Tiger Reserve
At Vanghat, we can arrange for different walks for guests, depending on their fitness levels. Typically, the morning hikes start at 7:00 am and last for four hours. Breakfast follows at a special location inside the forest. Return to the lodge to rest for a couple of hours, before stepping out again at 3:00 pm. Although the focus is primarily birding, you may come across mountain goats called Ghural and antelope like Serow; and even Elephants, Leopards and Tigers, although their sightings are now rare.


Day 4
: 20th January2021 • Corbett Tiger Reserve
Today, we shift to the southern side of the park. On route, you will stop close to Garjiya Devi Temple on Kosi river, known for sightings of the much sought after Ibisbill. It is also a great place to see different types of Kingfishers along with Wallcreeper and different types of Redstarts. We should arrive at Jim's Jungle Retreat at about 2:30 pm, and the rest of the day is at leisure.

Day 5
: 21st - 22nd January 2021 • Corbett Tiger Reserve
We begin exploring Corbett Tiger Reserve in open jeeps this morning. You can take two safaris each day, one in the morning (7:00 am - 10:30 am) and the other in the afternoon (2:30 pm - 5:00 pm). Key wildlife to look out for during these will be Tiger, Leopard, Elephant, Sambar Deer, Chital Deer, Barking Deer, Jungle Cat, Jackal and the Sloth Bear, to name a few.
A lodge naturalist will accompany you on the safaris.


Day 6
: 23rd January 2021 • Corbett Tiger Reserve - Delhi
This morning, you will take your last safari into Corbett Tiger Reserve, before leaving for Delhi by road (about 5½ hrs). Hopefully by now you should have seen most of the species that you are seeking. A week in the region should have given you a bird count of over a 100 different species along with some iconic larger mammals.

Day 7
: 24th January 2021 • Depart Delhi
After breakfast, transfer to the airport to board the flight to onward destination.


Send a Query