Our Trips
Wild Trails of India
8 Nights/ 9 Days | 6 Mar 2021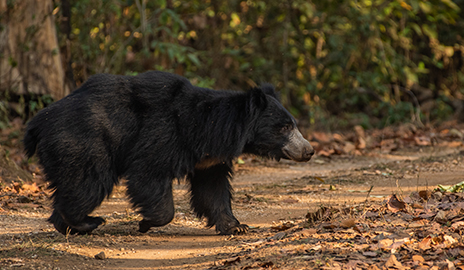 Overview
Photo Gallery
Tour Itinerary
How to Reach
Where to Stay
India is home to the highest diversity of wildcats in the world including the Royal Bengal Tiger. With close to 3000 tigers in the wild, India is undoubtedly the best destination in the world to catch a sighting of this majestic big cat. Listen to the calls of the wild and experience a sense of one-ness with nature on this wild trail through India.
In this journey, we take you on an exploration of two of the top tiger reserves in the country, which offer the best chance of seeing the tiger in its natural habitat – Satpuraand Pench. Apart from the Bengal Tiger, other wildlife that you will find in the area include Leopards, Jungle Cat and the Rusty-spotted Cat, along with over 250 species of birds.
Day 1
: 6th March 2021 • Arrive Delhi
Welcome to India's capital - Delhi - a place where the old and new intermingle with a seamless charm. Spend the evening interacting with your tour expert, who will brief you about the upcoming journey over dinner.

Day 2
: 7th March2021 • Delhi>>Bhopal>>Satpura
We begin our exploration of India's wildlife and natural beauty in Central India at one of the lesser-known gems - the Satpura Tiger Reserve. Start early in the morning to catch your flight to Bhopal. Our representative will meet you at the airport for your transfer to Satpura (3½ hrs away). After checking in at the lodge, relax over lunch and then step out for your first trip into the jungle, accompanied by an expert naturalist.

Day 3
: 8th March 2021 • Satpura
Satpura is a unique park where you can explore the jungle in many different ways - on foot, canoes or even night drives. This morning, you will begin with a walking safari into the tiger reserve. Learn about how the big cats are tracked in this jungle and discover the lesser known fauna of the region, that are often too camouflaged to be seen in fast moving jeeps. In the afternoon, explore the jungle in an open jeep searching for Wild Dogs, Sloth Bears, Tigers, Leopards, Jungle Cat, Gaur (or Indian Bison - the largest bovid in the world), to name a few.

Day 4
: 9th March 2021 • Satpura
This morning, we change pace and explore the Denwa river while on a canoe safari. Or you could choose to take a walk with the lodge naturalist. A canoe safari lets you explore the migratory ducks and birds, while getting a closer look at Mugger Crocodiles and land mammals that came down to the river to drink water. Next, explore the nearby village with bird watching around the lodge. And in the evening, take a night safari to explore nocturnal animals such as Sloth Bears, Leopards, Rusty-Spotted Cat (world's smallest wildcat), Nightjars and Owls.

Day 5
: 10th March 2021 • Satpura>>Pench
In the morning, proceed for a last safari in the park. After breakfast, we will make an early start for Pench.

Note: All parks in Madhya Pradesh remain closed on Wednesday afternoon for all tourist activities. We will use this time to transfer in between two parks.

Day 6
: 11th March 2021 • In Pench
Pench Tiger Reserve gets its name from the Pench river that divides the park into two and is the life source of the flora and fauna of this beautiful forest. The jungles of this region served as the inspiration for Rudyard Kipling's Jungle Book, written over a century ago. This morning and afternoon, you will venture into Pench Tiger Reserve on two safaris.


Day 7
: 12th March 2021 • Pench
Apart from the tiger, these thick jungles of teak and other deciduous trees are home to various species of wild animals like the Asiatic Wild Dog (Dhole), Leopard, Jackal, Jungle Cat, Pangolins, Honey Badgers, Stripped Hyena and about 220 species of birds. This morning and afternoon, you will venture into Pench Tiger Reserve on two safaris.

Day 8
: 13th March 2021 • Pench>>Nagpur>>Delhi
This morning we take our last safari into Pench. After which we start making our way back to Nagpur airport and catch a flight to Delhi. You will be received by our representative at Delhi airport and will be transferred to your hotel. Rest of the day is at leisure. Overnight will be in Delhi.


Day 9
: 14th March 2021 • Depart Delhi
This morning, checkout and transfer to the international airport to catch your flight back home.


Send a Query