Our Trips
Wild Explorations in Ramganga Valley
8 Days | 18 Jan 2020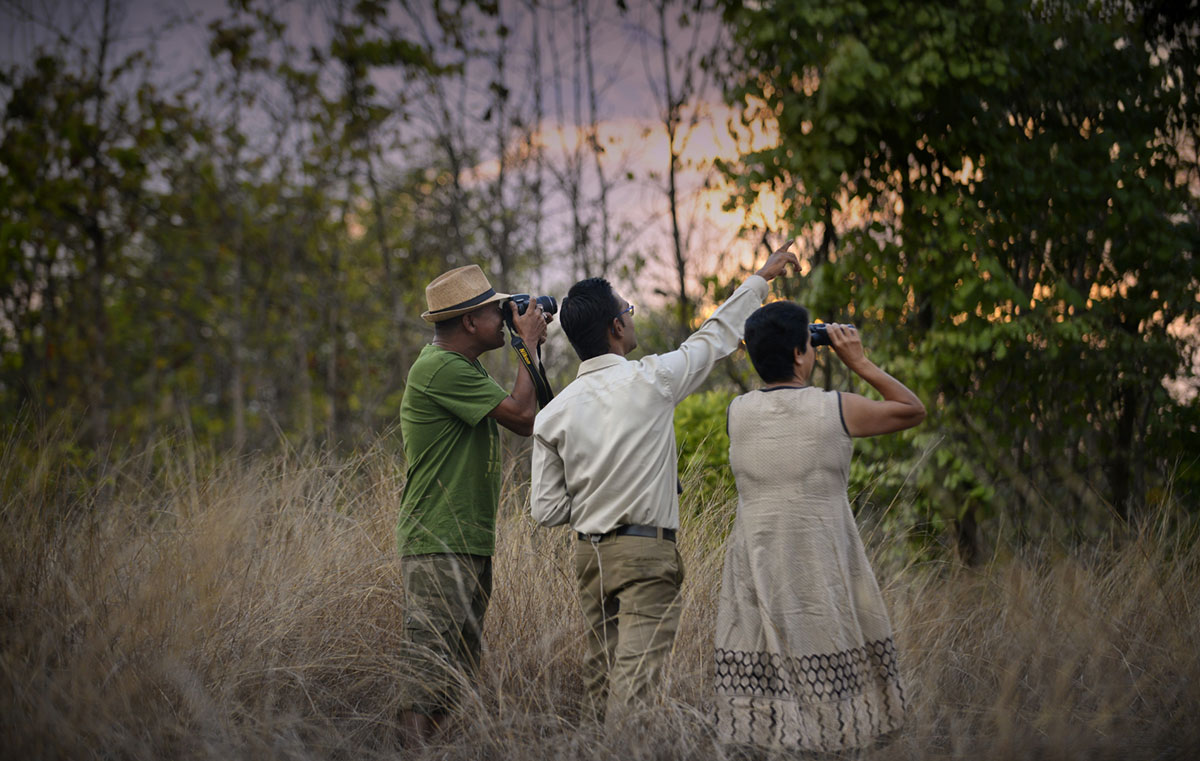 Overview
Photo Gallery
Tour Itinerary
How to Reach
Where to Stay
India boasts of about 1250 species of birds, including migratory birds that travel here from all over the world. Of this, about 600 species can be found in the Corbett valley alone, in the foothills of the Himalayas.
Some highlights of the region are:
Hornbills: The Great Indian Hornbill, Oriental Pied Hornbill and the grey Hornbill
Kingfishers: Common Kingfisher, White-throated, Stork-billed, Crested and Pied Kingfisher
Woodpeckers: Flameback, Grey-headed, Yellow-crowned, Yellow-naped, Scaly-bellied, Rufous and Gray-slaty
Owls: Jungle Owlet, Spotted Owlet, Scops Owl, Tawny Fish Owl, Eagle Owl and Brown Fish Owl
Vultures: Himalayan Griffon, White-rumped, Cinereous, Red-headed and Egyptian Vulture
Raptors:  Lesser-fish Eagle, Pallas Eagle, Changeable Hawk Eagle, Crested Serpent Eagle, Oriental Honey Buzzard, Pied Harrier, Black-shouldered Kite, Shikra, Sparrow Hawk, Common Kestrel and Collared Falconet (smallest raptor)
Riverine Birds: Great Cormorant, Darter, Ruddy Shelduck, Bar-headed Geese, Greylag Goose, Grey Heron, Black Stork, Wooly-necked Stork, Grey Heron, Night Heron, Black Ibis, Black-headed White Ibis and Ibisbill
Forest Birds: Dollar Bird, Green Magpie, Red-billed Blue Magpie, Long-tailed Broadbill and a variety of Thrush
Grassland Birds: Multiple variety of Bulbuls, Bushchats, Stonechat, Bee-eaters, Warblers, Weaver Bird, Munias, Red Jungle Fowl, Khaleej Pheasant, Ioras and flycatchers
Day 1
: Arrive in Delhi. There are no special activities today, as we wait for all guests to arrive. Spend the day at your own pace. Overnight in Delhi.
Day 2
: Early morning, transfer by road to Kalagarh Wildlife Sanctuary (5 hours away). We will arrive by lunch and eat at the lodge. In the afternoon, explore the sanctuary on foot, led by an expert. Overnight at Vanghat.
Day 3
: Continue exploration of the park on foot, home to not only a great variety of birds but also mammals such as tigers, leopards and Asiatic Elephants. Overnight at Vanghat.
Day 4
: Continue exploration of the park on foot, home to not only a great variety of birds but also mammals such as tigers, leopards and Asiatic Elephants. Overnight at Vanghat.
Day 5
: In the morning, take your last excursion on foot in the hills around Vanghat. After breakfast, transfer by road to Jim's Jungle Retreat on the southern periphery of the park. Enroute, we will stop for birding on the Kosi River around Garjiya Devi Temple. Remainder of the day is at leisure. Overnight at Jim's Jungle Retreat
Day 6
: We begin exploring the core zones of the Corbett tiger reserve today. There are two safaris planned – one in the morning and the other in the afternoon. Overnight at Jim's Jungle Retreat.
Day 7
: We take two more safaris today and continue exploring the various zones of Corbett. Overnight at Jim's Jungle Retreat.
Day 8
: This morning we take our last safari of the tour. After breakfast, return to Delhi to catch the international flight back home.


Day 9
: Today you explore Nagarhole National Park in search for the elusive Black Panther or the Melanistic Leopard. This is going to be the key focus of our exploration of this region, although it is also home to the other wildcats such as the Bengal Tiger, Leopard and the Jungle Cat. Overnight will be at Kaav Jungle Lodge.
Day 10
: The day again is spent exploring Nagarhole in search of the various wildcats along with species such as the Dhole, Gaur, Asiatic Elephant, Wild Boar and a variety of deer species. Overnight will be at Kaav Jungle Lodge.
Day 11
: Today you take your last jeep safari into the Indian jungles. Following this you check-out and transfer back to Bangalore from where you catch your international flight back home.
Corbett Tiger Reserve: Jim's Jungle Retreat
Jim's Jungle Retreat is a highly rated wildlife 5 star luxury resort in Jim Corbett, India with eco-sensitive lodges that offer an immersive jungle experience to its guests in over 15 acres of replanted forest. Only 18 independent cottages can be found here among water bodies, grasslands and mixed deciduous flora from the Terai planted decades ago.
Reflecting the area's Raj-era legacy and that of the wandering pastoral tribes of the Van Gujjars, they offer three accommodation styles designed with a focus on aesthetic, comfort and local history of the area. These include jungle cottages and bungalow-style lodges borrowing from their architectural past, with large wrap-around verandas, a living area, a bedroom and en-suite bath.
Luxuriant fabrics, fine linen and subtle detailing creates a comfortable and a sophisticated environment. Century-old lithographs and plates of Indian wildlife scenes frame the walls. The furniture is designed with extensive use of local craftsmanship and material with each residence uniquely inspiring charm and exclusivity in itself.
Corbett is home to nearly 10% of bird species in India, of which nearly 600 resident and migratory species can be found here. At the Retreat, you'll have a chance to see these magnificent feathery creatures. Their curated bird walks within and outside the retreat will take you to the riverbed, the Machaan, along our Mahavan, Python and Bagh Machaan trails, where over 150 species can be seen.
The organic farm at the Retreat offers fresh vegetables sourced for their delicious 'farm-to-table' cuisines. The veggie patch can be explored by guests where they can pick their own vegetables and learn about sustainable farming and ancient techniques.
Send a Query