Wildlife Journeys
Indian Train Journeys, South India
16 Days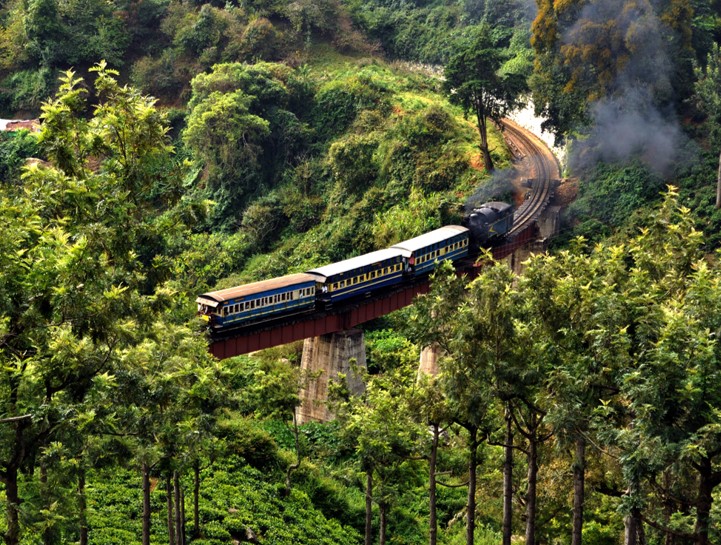 Overview
Photo Gallery
Tour Itinerary
How to Reach
Where to Stay
Facets of India
India is not a country but a continent and travelling through it is an experience like none other. Overwhelming in its chaos at first, it gradually unfolds unique delights. You may find it in its majestic forts, monuments and temples; in exquisite crafts; in traditional and contemporary arts; in the bustle of its colourful bazaars; landscapes and nature reserves; in diverse cuisines; or in the unexpected beauty that filters through the chaos.
This program has been especially curated for train enthusiasts to experience India's diverse landscape, culture and wilderness by using one of the lifelines of modern India – its trains. Each program showcases unique destinations both from a cultural perspective as well as for our natural heritage.
With over 48 tiger reserves and 870 endemic species India is truly a wildlife destination like non other. JungleSutra wilderness experience would focus not just on some of the larger predators but would also like to highlight some of our lesser known flora & fauna.
Day 1
: Arrive in Chennai (British Airways 35) | After Lunch Explore Chennai
Day 2
: Explore Chennai | Take Shatabdi Express from Chennai to Bangalore (17:30 – 22:30)
Day 3
: Explore Bangalore | 4pm – Join Golden Chariot Train
Day 4
: Explore Mysore Palace | Drive to Kabini (2hrs) | Explore Wildlife in Kabini | Overnight – Jungle Lodge
Day 5
: Morning boat safari in Kabini | Return to Mysore by road (2hrs) | Explore Mysore | Overnight in the Golden Chariot
Day 6
: Morning leave the Golden Chariot and drive to Bandipur (80km) | Afternoon game drive in Bandipur | Overnight at The Serai
Day 7
: Morning and Afternoon Safari in Bandipur | Overnight at The Serai
Day 8
: Early morning transfer to Ooty (50km) | Explore Ooty
Day 10
: Morning at leisure| Afternoon take Nilgiri Mountain Railways to Mettupalayam (arrive at 17:35) | Road transfer to Coco Lagoon, Pollachi
Day 11
: Explore village culture and arts & crafts | Overnight at Coco Lagoon
Day 12
: Explore Pirambikulam National Park | Overnight at Coco Lagoon
Day 13
: Kariyanshola Trek for birding, butterflies, amphibians, reptiles and endemic flora | Evening at leisure | Overnight at Coco Lagoon
Day 14
: Fly from Coimbatore to Chennai (morning flight you should be in Chennai before 12pm) | Transfer to Vivanta by Taj Fisherman's Cove (Beach Hotel) | Day at leisure
Day 15
: Day at leisure (Optional tour to Mahabalipuram to explore Rock Temples)
Day 16
: Transfer from Fisherman's Cove to Chennai Airport | Fly Out (British Airways 35)
Send a Query