Wildlife Journeys
The Big Five
15 Days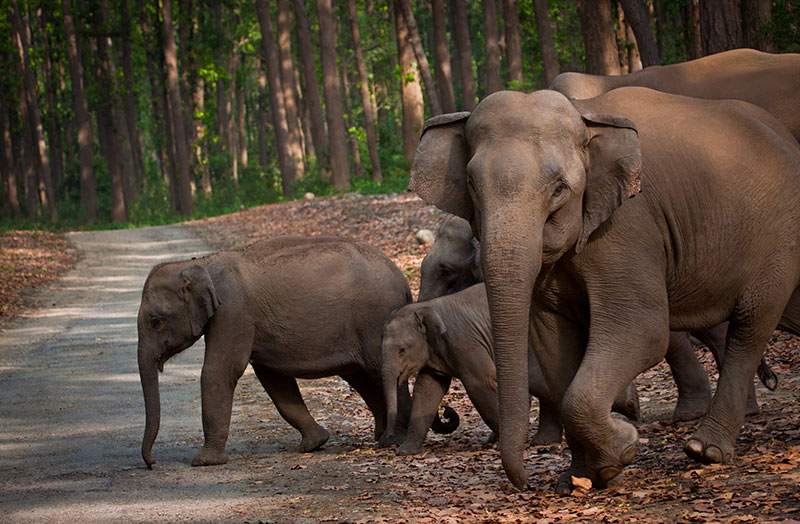 Overview
Photo Gallery
Tour Itinerary
How to Reach
Where to Stay
The Big Five
Asiatic Lion
Tiger
Leopard
Asiatic Elephant
One horned Rhinoceros
Sabarmati Ashram (home of Mahatma Gandhi) & Calico Museum of textile & bronze
13 Night | 14 Days India Experience
Best Months – January, February & March
Expected Temperature 5°C to 25 °C
Mosquitos Active in March end onwards
Day 1
: Arrive at Mumbai International airport, personalized welcome upon arrival at the airport | Transfer to the Hotel | Overnight in Mumbai
Day 2
: Interest based Mumbai Sightseeing – First Half Day | Take the afternoon flight to Diu | Explore Naida Caves in Diu | Transfer to Gir National Park | Overnight in Gir
Day 3
: Morning and afternoon safari in Gir National Park | Overnight in Gir
Day 4
: Morning and afternoon safari in Gir National Park | Overnight in Gir 
Day 5
: Morning safari in Gir National Park | After and early lunch (or take a packed lunch) depart for Ahmedabad | explore Sabarmati Ashram | Overnight in Ahmedabad
Day 6
: Catch the morning flight to Nagpur (via Mumbai) | Transfer from Nagpur to Tadoba Andhari Tiger Reserve | Lunch at Lodge | Overnight in Tadoba
Day 7
: Morning and afternoon safari in Tadoba | Overnight in Tadoba
Day 8
: Morning and afternoon safari in Tadoba | Overnight in Tadoba
Day 9
: Morning safari in Tadoba | Early lunch at the lodge | Transfer to Nagpur airport | Take the evening flight to Kolkata | Evening at leisure in Kolkata | Overnight in Kolkata
Day 10
: Morning flight to Guwahati | Transfer by road from Guwahati to Kaziranga | Afternoon nature/bird walk in the buffer forest | Overnight in Kaziranga
Day 11
: Morning and afternoon safari in Kaziranga | Overnight in Kaziranga
Day 12
: Morning and afternoon safari in Kaziranga | Overnight in Kaziranga
Day 13
: After breakfast drive to Guwahati | Lunch at Guwahati | Catch the evening flight to Mumbai | Evening at leisure | Overnight in Mumbai
Day 14
: Transfer to the airport | Catch your flight back home.
Mumbai – Diu – Gir – Ahmedabad – Nagpur – Tadoba – Nagpur –
Kolkata – Guwahati – Kaziranga – Guwahati – Mumbai
Mumbai – Diu
Flight (afternoon flight)
Diu – Gir
Road Transfer 74 km (1hr 40min)
Gir – Ahmedabad
Road Transfer 300 km (6hrs)
Ahmedabad – Nagpur
Flight (morning flight)
Nagpur – Tadoba
Road Transfer 105 km (2hr 20min)
Nagpur – Kolkata
Flight (evening flight)
Kolkata – Guwahati
Flight (morning flight)
Guwahati – Kaziranga
Road Transfer 195 km (4hr 30min)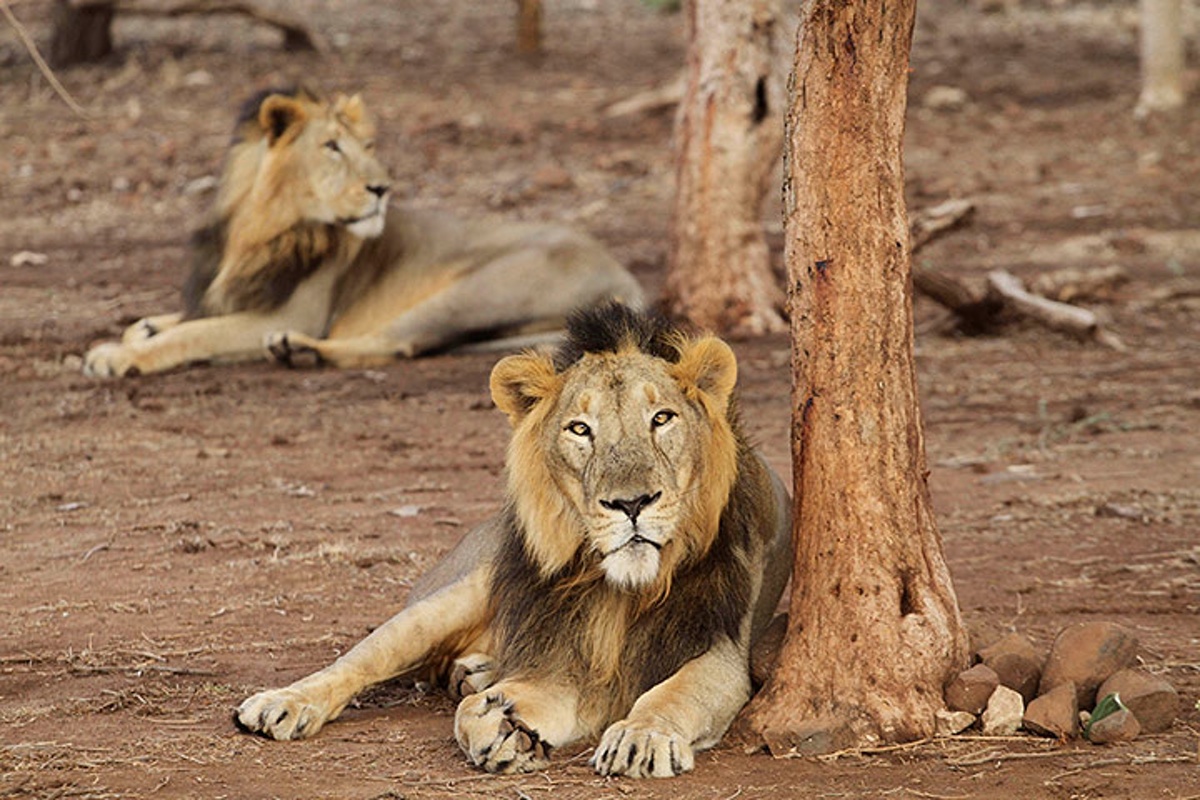 Gir Wildlife Sanctuary
Gir is the last remaining bastion of the Asiatic Lion.  As per the latest census the lion population in and around the park is over 500 individual adults. This forest is partly dry deciduous and partly dry savannah forest. The forest is supported by seven perennial rivers, four of which have dams and the reservoirs from these dams also help support the diverse flora and fauna in this region.
Wildlife species that one should seek in these jungles are: Asiatic lion, leopard (a very high density), stripped hyena, golden jackals, honey badger, jungle cats, desert cats and the rare rusty spotted cat, crocodiles, cobras – spectacled and black, Russell's viper and the Indian mongoose. Key prey species include nilgai (one of the largest antelopes in India), Chinkara or the Indian gazelle, four-horned antelope, chital deer and sambar deer along with macaques, langurs and wild boars. Some of the bird species found here include crested serpent eagle, endangered Bonelli's eagle, crested hawk-eagle, brown fish owl, Indian eagle-owl, rock bush-quail, pygmy woodpecker, black-headed oriole, crested tree swift and Indian pitta.
Other attractions from a photography perspective are the Maldhari herdsmen and the African village. They make excellent subjects for people photography.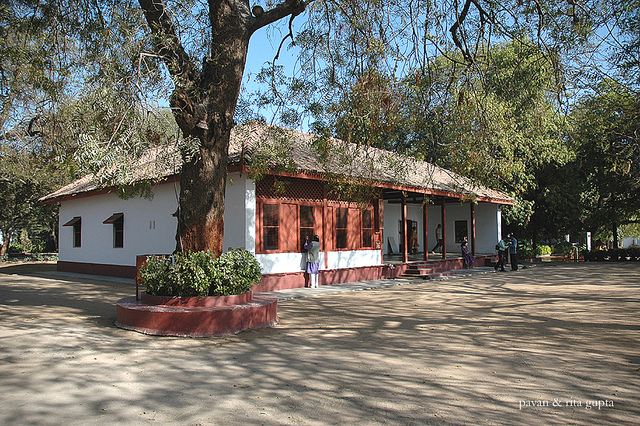 Ahmedabad
Ahmedabad is the largest city in Gujarat. Ahmedabad has emerged as an important economic and industrial hub in India. It is the second largest producer of cotton in India. In 2010, it was ranked third in Forbes's list of fastest growing cities of the decade.
On his return from South Africa, Gandhi's first Ashram in India was established in the Kochrab area of Ahmedabad on 25 May 1915. The Ashram was then shifted on 17 June 1917 to a piece of open land on the banks of the river Sabarmati. Reasons for this shift included: he wanted to do some experiments in living for example farming, animal husbandry, cow breeding, Khadi and related constructive activities, for which he was in search of this kind of barren land; mythologically, it was the ashram site of Dadhichi Rishi who had donated his bones for a righteous war; it is between a jail and a crematorium as he believed that a satyagrahi has to invariably go to either place. The Sabarmati Ashram was home to Mohandas Gandhi from 1917 until 1930 and served as one of the main centres of the Indian freedom struggle.
The Calico Museum of Textiles at Ahmedabad is the premier textile museum of the country, and one of the most celebrated institutions of its kind in the world for its distinguished and comprehensive collection of textiles and artefacts. The Calico collection along with those of Sarabhai Foundation's collection of outstanding Bronzes, Pichhwais, Jain art objects and Indian miniature paintings are housed at the Retreat complex of Sarabhai Foundation in the Shahibag area of the city.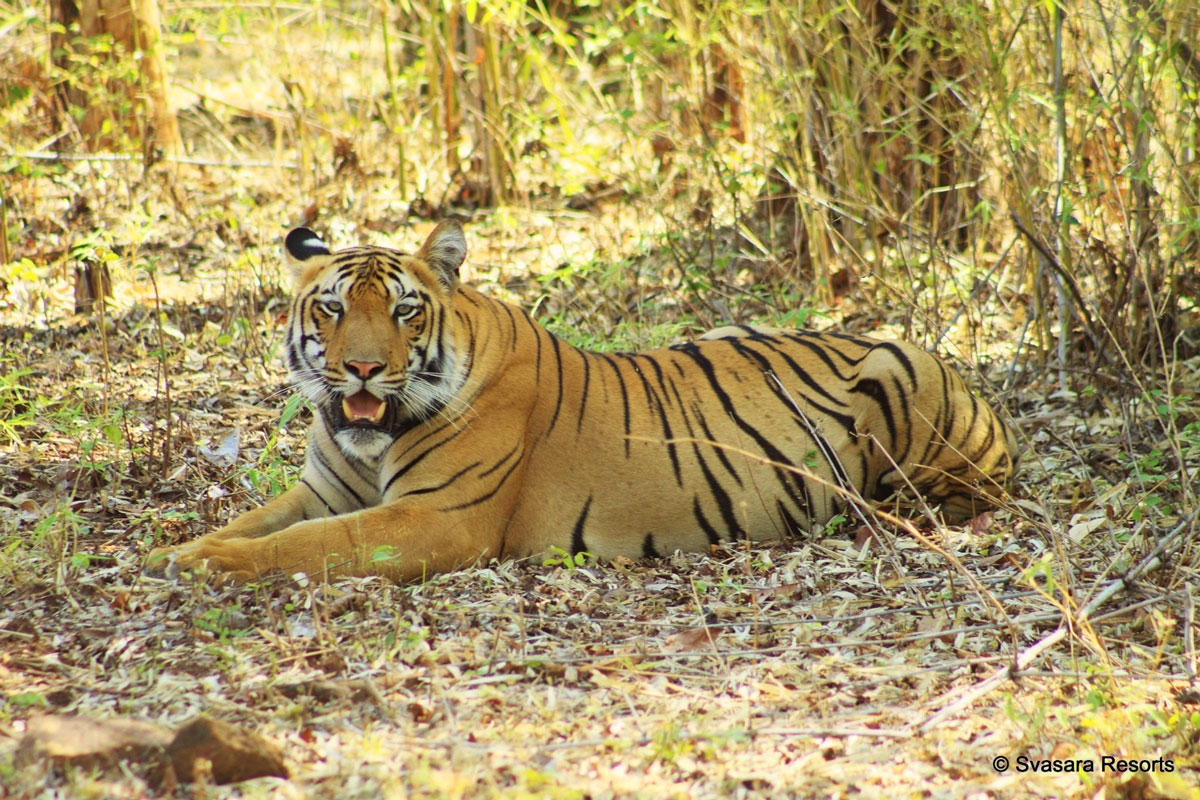 Tadoba Andhari Tiger Reserve
The Tadoba Andheri Tiger Reserve is the second largest park in Maharashtra with a core area of 625 sq. km and a bigger buffer zone of 1102 sq. km.  It's bounded on the northern and the western side by densely forested hills. Thick forests are relieved by smooth meadows and deep valleys as the terrain slopes from north to south. Tadoba reserve is a predominantly Southern tropical Dry Deciduous Forest with dense woodlands comprising about 87 per cent of the protected area.
Teak is the predominant tree species. Other deciduous trees include Ain (crocodile bark), Bija, Dhauda, Haldu, Salai, Semal and Tendu. Beheda, Hirda, Karaya gum, and Mahua are other common species.
NOTE: The park remains closed for safaris in the core zone on Tuesdays.
Key Wildlife to look out for while visiting Satpura National Park is:
Tiger
Dholes / Wild dogs
Leopard
Chausingha or the Four Horned Antelope
Grey Headed Fish Eagle
Oriental Honey Buzzard
Mottled Wood Owl
Marsh Crocodile (they use to breed crocodiles in the park at one time, however, this does not happen any more)
Stripped Hyena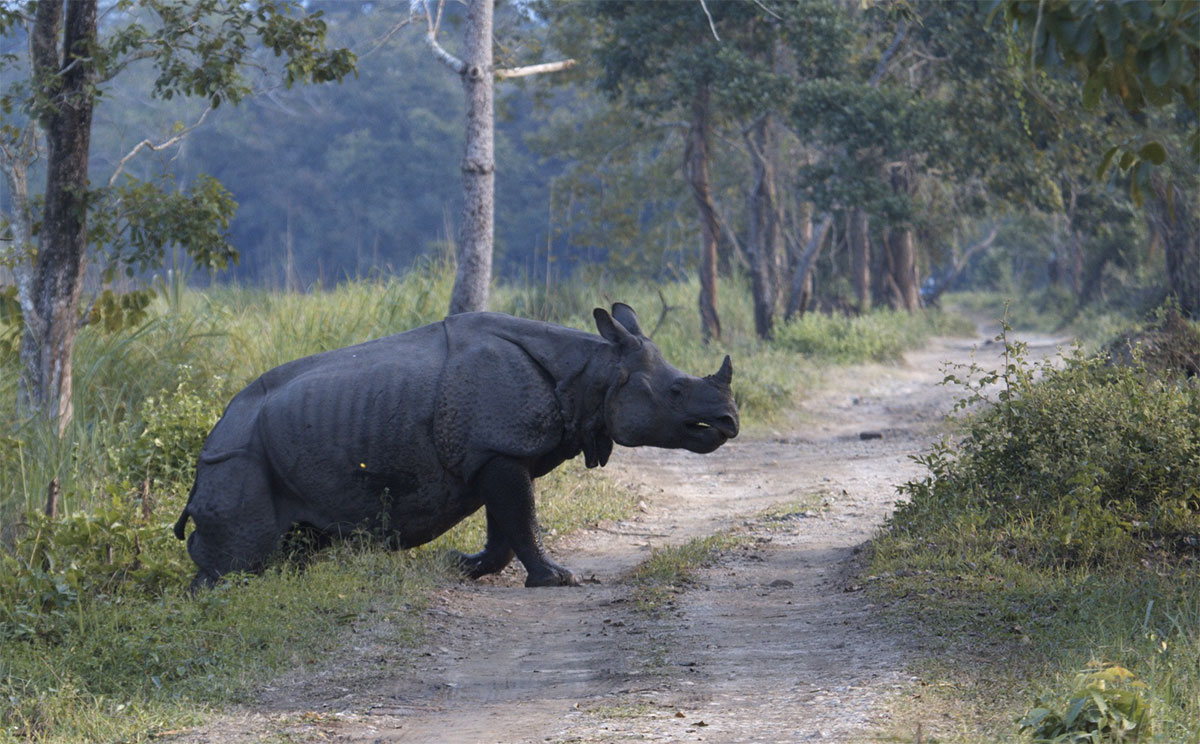 Kaziranga National Park, Assam
A Natural World Heritage Site and assigned as an Important Birding Area by Birdlife International, Kaziranga National Park is unique park on the banks of the river Brahmaputra. As per the census in March 2015 the park had 2401 rhinos. The park is also home to large breeding populations of Tiger, Elephants, Wild Water Buffalo, and Soft Ground Barasingha.
The history of Kaziranga as a protected area can be traced back to 1904, when Mary Curzon, Baroness Curzon of Kedleston, the wife of the Viceroy of India, Lord Curzon, visited the area. After failing to see a single rhinoceros, for which the area was renowned, she persuaded her husband to take urgent measures to protect the dwindling species. On 1 June 1905, the Kaziranga Proposed Reserve Forest was created with an area of 232 sq.km.
The park is home to a variety of migratory birds, water birds, predators, scavengers, and game birds. Birds such as the Ferruginous Duck, Baer's Pochard Lesser Adjutant, Greater Adjutant, Black-necked Stork and Asian Openbill Stork migrate from Central Asia to the park during winter. Riverine birds include the Blyth's kingfisher, Dalmatian pelican, spot-billed pelican, Nordmann's greenshank, and black-bellied tern.
Home to two of the largest snakes in the world – the reticulated python and rock python, as well as the longest venomous snake in the world, the king cobra this park offers a diverse wildlife experience.
Send a Query